Backstage at "Sister Act"

In April 2015 I played Sister Mary Patrick in Belfast Operatic Company's production of "Sister Act" the Musical at the Grand Opera House, Belfast.
Music theatre has been a passion and hobby of mine for many years – I'm definitely going to blog a bit more about past experiences on stage soon – but I thought today I'd focus on Sister Act.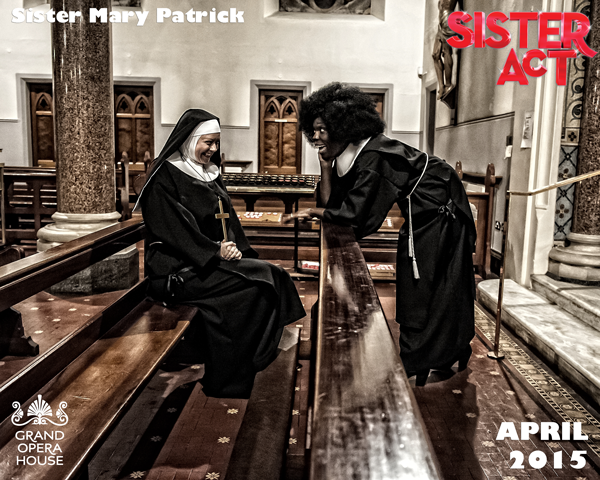 The show ran for a week – Tuesday to Saturday – with a matinee and evening show on the Saturday, so there were 6 performances altogether. Every show completely sold out, so over 6000 people saw the show that week. There was such a good buzz about the show that they started selling standing tickets! It is such a thrill to be part of such a successful show: seeing the sold out sign; hearing the hum of the audience talking before the show starts; the roar of applause. The crowd were on their feet at the finale every single night. That fantastic feedback from the audience made all the hard work worthwhile!
Rehearsals started in September 2014 when we started learning the music (with a hiatus for Christmas); then we really got going in earnest in January. We rehearsed every Monday and Wednesday evening and Sunday afternoons. Rehearsals were split between music with musical director Colin Scott, dance with choreographer Timmy Bell, and acting with director Wilfie Pyper. It was pretty full on! The camaraderie in rehearsals was great as we got to know new members, compared sparkly shoes and practiced our dance routines.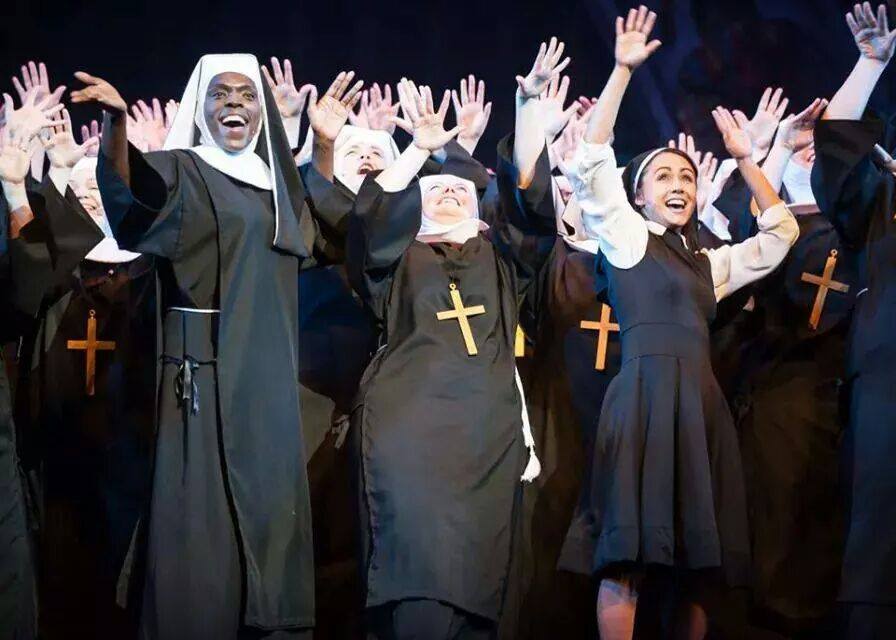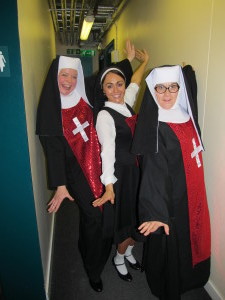 Sister Mary Patrick was a great fun part to play. She's a real larger than life character. I developed a chirpy, slightly nasal American accent for her and pretty much grinned from ear to ear the whole time. All my dancing, and even my walking had to be done with maximum gusto and enthusiasm! Some people said, "That part suits you so well!" which was lovely, but I must admit – I'm not THAT cheerful ALL the time… I was acting! No matter what mood I arrived at in rehearsal though, the upbeat music, and Sr Mary Patrick's relentless cheeriness, always perked me up.
The week before the show costumes arrived. Once we got into the wimples we really started to feel the part (even if they squashed my head a bit!). I had three costumes: My main black nun's habit, a sparkly nun's habit for the finale, and pyjamas for the "bedroom scene" when we all wake Dolores up to pray "Bless Our Show" in Act 2. There was something quite liberating about the shapeless costumes, and not needing hair / wigs or make-up for the show. It was certainly quick to get ready for it each night.
The band call on the Sunday before we opened was our first chance to sing with the full band. It was a real thrill and most of us were dancing on the spot as we sang. Then on the Sunday night we had our technical rehearsal in the Grand Opera House – our first chance to see the fabulous set and work through the show in the space. Monday night was the dress rehearsal and then… it was opening night!
The whole week was fabulous fun. I was sharing a dressing room with Sister Mary Lazarus (Shirley Adair) and Sister Mary Robert (Nuala Mannion). The craic was great backstage. My first appearance on stage was leading the sisters on doing "bad singing" in our nun's choir. I enjoyed that every night singing in totally the wrong key and ahead of the beat. There were no nerves at all when I was appearing with so many others, just a great sense of fun and camaraderie.
My favourite number was "Raise Your Voice" when Doloris teaches the nuns how to sing. It's such a great number and builds up until the nuns all come in together in harmony. I felt carried on the wave of voices every night. I also loved the little scene in the bar. It always got a good laugh from the audience and the bar looked fab with the 70s clothes and hair, the juke box and pool table. All the high energy dance numbers were great fun too and I was very proud of myself that I'd finally got the moves down.
There were tears backstage after the final performance. "Sister Act" had so many principal parts, and used the chorus so much, that everyone felt really involved in and important to the show. I made some new friends and wonderful new memories. It was a pleasure to be part of a terrific "Sister Act".
For all of you who came to see the show, thank you for your support – and for laughing at our jokes! I'd love to hear what you thought in the comments below.