John Hewitt International Summer School 2016
I spent the last week of July in a windowless room listening. This was way more fun than it sounds! I was attending the John Hewitt International Summer School at the Market Place Theatre in Armagh: Six days of poetry readings, political panel discussions, lectures, Q & As with novelists, music, theatre, workshops and a lot of tea. It was stimulating, entertaining, challenging and well worth it.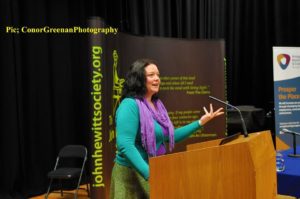 So what was a songwriter doing at a literary summer school? Well, some of you may know I studied Literature at university and have had prose creative writing projects at various stages of incompletion over the years. I've always loved reading and books and so spending a week wallowing in words was a natural fit for me. But even if I was "just" a songwriter there would have been a lot to gain from listening to great writers read from their own work and talk about their creative process, both for triggering new ideas and for working on lyric writing. There's a value too in just surrounding yourself with creative people for a week; the participants in the programme were novelists and poets, artists and musicians some published, some not. The conversation could and did go in any direction and the craic was great.
The programme itself was packed. From 9.45 in the morning until after 10pm I scurried from one event to the next with quick tea and pee breaks in between.
No surprises that a highlight of the week for me was Martin Hayes (fiddle) and David Power (Uilleann Pipes). These masters of traditional music played for nearly three hours, weaving a sort of magic as their fingers flew over jigs and reels. Feet stomping on the floor, the heartbeat of the audience carried us along, some people moved to tears from the sheer wonder of live music. Martin Hayes said of his fiddle that it was really hard work to learn, but once you had it, it gave a lifetime of exhausting pleasure, and you could see both men's pleasure in their playing, the interplay of the instruments, not sure how many repeats or variations on a tune they'd play, when they'd turn the corner into the next tune, feeling their way along. It was exhilarating to watch. If you ever get a chance to see them play, even if you think you don't like Irish traditional music, give them a go – you won't be disappointed!
Other great evening events were Duke Special in concert (showcasing a wide range of the musical styles he has composed in, including musical theatre) and a play "The Man in the Woman's Shoes", a tour de force one man show from Mikel Murfi telling the very funny but sweet story of a mute man in small town Ireland.
However, these evening shows were the dessert of the daily programme. The main course was the words: the readings and talks that filled the days. If your last experience of poetry was in school, poetry can seem stuffy and staid. The poetry this week was vibrant, challenging and inspiring. And there is the poet right in front of you, alive! I hurried from many readings to join the scrum at the "No Alibis" book stall to buy a volume and get it signed. Jane Yeh's poetry was fresh, funny and insightful and I just had to take home "Marabou" for her poem about the owl in the Harry Potter movies! I also bought Andrew McMillian's "Physical" – his wonderful poems about love and relationships as a gay man were both specific and personal, and universal. His work confirmed that a specific truth engages people more than a generalisation, a method I try to apply in my lyric writing.
I've already started reading "Tender", a novel by Belinda McKeon who did an incredibly entertaining reading of her own work. The narrative voice she'd created of a uni student in the late 90's rang absolutely true (and I would know…) I was also excited to hear Martina Devlin talk about her latest novel "About Sisterland" because I love speculative fiction and because turns out she's an Omagh girl too! I picked up her earlier novel "The House Where it Happened", historical fiction about the witches of Islandmagee.
The political and historical talks over the week focused on 1916. A number of speakers focused on women in Irish history of this period, introducing me to stories I hadn't heard, and to interrogating why these stories are not widely known. As a songwriter who has been described as "feminist folk" I am sure some interesting song ideas will come out of these lectures once I've had a chance to process it all!
I also attended a creative writing workshop on Writing for Young Adults with novelist Sheena Wilkinson. I'd already read four of her five novels and so I knew she was expert in this area. The workshops pushed me to consider voice, character, setting and dialogue in an active way which I know will have positive impacts on my prose writing and maybe my songwriting too. I read an extract of prose I'd been working on at the Friday showcase; I was surprised by how nervous I was. Reading my first draft work in progress from the same podium that I'd been watching award winning writers read from all week was incredibly intimidating!
The week was rounded off with an Open Mic night at the Abbey Lane Theatre in Armagh – a mixture of summer school alumni and locals. The atmosphere was just wonderful with recitations and folk songs mingling with original work, the humourous with the poignant. I got up and played "My Own Road" and "Donegal" which was very warmly received. It was the first time I'd sang all week and it was a lovely, joyous moment. I would love to go back to play a full gig organised in the city, if only for an excuse to go back to Bagel Bean for a Chelsea Blue sandwich!