My music is out there!
"Donegal" Single Launch   
Friday 1st August saw the official launch of my début single. It was a very exciting day. The first thing I did when I woke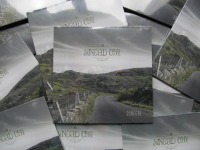 up was check itunes and sure enough, there was Donegal and Small Town Summer Sunset available for download for 79p each! Ditto on Amazon MP3. Through the day I got updates from friends and fans far and wide who'd spotted it on Spotify, Google MP3 and JB Hi Fi in Australia. It was such an exciting feeling to know that my music was out there, and that people all over the world can listen.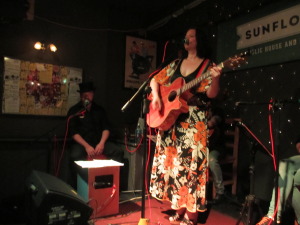 All day I was running around getting prepared for the gig: making signage, rehearsing with the band… I was excited to be listed as "Pick of the Week" in the Belfast Telegraph "Out There" supplement.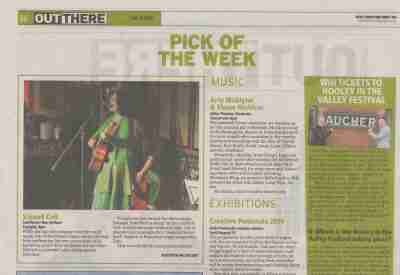 Sadly, I also had a last minute change of line up as the support act I had booked had to pull out due to personal circumstances. Happily, Matt McIvor, who I'd booked to do sound, is also a singer – songwriter andhe stepped in at the last minute. Another trooper was violinist Kate, who managed to go home in between the sound check and gig to feed her 4 month old baby! And Andy played a great gig on the cello before heading off to work a night shift! I am so grateful to them for sharing their time and their talents with me. 
When doors opened at 8pm there were a few anxious moments, like that first half hour of a party, when you're not sure if anyone will come! Happily, the upstairs room at the Sunflower Bar soon filled up. Matt McIvor played a great set, and got the audience laughing with his sweet, funny tunes. His "Ed Sheeran" song rounded off his set. Check it out on soundcloud:
Playing my own set was a real pleasure. Making music with Kate, Andy and Matt is always wonderful but this night felt special. I sang "A Maybe Romance" as a duet with Matt for the first time, and we débuted my new arrangements of My Own Road and Let the Sunshine Through with Andy playing cello like a double bass and Kate and Matt on backing vocals. It was great fun and seemed to go over well with the crowd. I included a version of Secret Love from the musical Calamity Jane as a nod to Belfast Pride, which was on that weekend, and rounded off the set with Goonies Are Good Enough which I'd arranged for strings (inspired by having watched this 80s classic at the Strand Cinema the previous weekend!).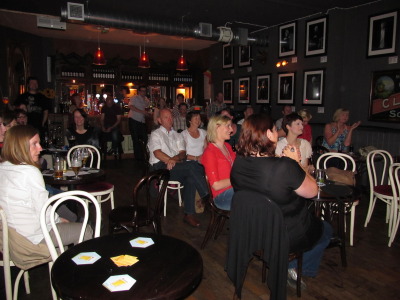 Ballyshannon Folk Festival
The 2nd August was a wet one, but undaunted, Matt, Kate, and I (and Kate's fiancée and baby) hit the road for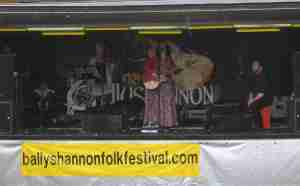 Ballyshannon, Co. Donegal. I was competing in a showcase for new folk acts, playing on a gig rig in the middle of Ballyshannon to some drenched folk fans! My music ranges from folk to rock, so I selected a playlist in keeping with the festival's focus and we played Donegal, Small Town Summer Sunset, It's Going to Rain Today and Silent Cry. Warming up fingers and instruments on the cold stage was a bit of a challenge, but happily, the judges liked what they heard and we were invited back for the final round of the competition the next day. There would be cash, and the opportunity to open for Paul Brady as the ultimate prize so stakes were high. The judges indicated they wanted to hear a different set on the following day so early the next morning we were rehearsing some newly written arrangements of Where The Birds Fly Free and This Too Shall Pass. My Own Road and Let The Sunshine Through rounded off the set and despite the downpours I was delighted to see the crowd get into the music, clapping along. We didn't win, but before we headed back to Belfast there was some great feedback from the crowd. A girl approached me to say she really enjoyed my "feminist folk" , and that she'd never heard any music quite like it before. What a great compliment!
Radio début on Q101.2
To round off a very busy weekend, Monday morning saw me play live on Omagh radio station, Q101.2 to launch the new single.  I had a great welcome from presenter Bryan Gallagher and really enjoyed the interview. He asked some great questions about the song-writing process, genres and influences and I topped and tailed the interview with solo, live acoustic performances of Donegal and Small Town Summer Sunset. 
It was a crazily busy and wonderfully creative weekend. May there be many more like it!